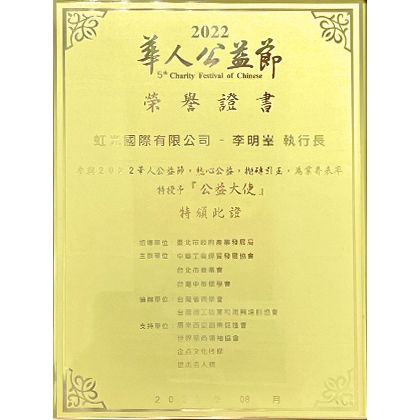 2022 Chinese Charity Festival and the 5th Chinese Charity Golden Award
The theme of this year's 5th Chinese Charity Festival is "Sustainable Development, Sharing Economy". Entrepreneurs from various fields are invited to serve as annual charity ambassadors to help promote corporate social responsibility and spread the power of love. At the same time, more than 10 well-known social welfare organizations at home and abroad, such as the Children Are Us Foundation, will be arranged to jointly participate in the exhibition to create a platform for public welfare units to connect with the outside world.
---
HungKuang Jewelry Electronic Catalog
This is the HungKuang electronic catalog with many different types of jewelry.

Download
2022 Chinese Charity Festival and the 5th Chinese Charity Golden Award - Over 20 Years Jewelry Customization and Jewelry Production | HUNGKUANG Jewelry CO., Ltd.
Based in Taiwan since 2000, HUNGKUANG Jewelry CO., Ltd. has been a Jewelry wholesale supplier and manufacturer. Their main jewelry, including bracelets, rings , couple rings, pendants, vulcanized pendants, name bracelets, name rings, which can be customized.
HUNGKUANG provides customers with innovative and integrated solutions with its rich experience in R&D and design, skilled production technology, and forward-looking vision. HUNGKUANG holds the spirit of adventure, faces the challenges of craftsmanship details, has the courage to break through the status quo, and leads customers forward with visionary thinking.
HUNGKUANG has been offering customers wholesale rings and pendants, both with advanced technology and 15 years of experience, HUNGKUANG ensures each customer's demands are met.