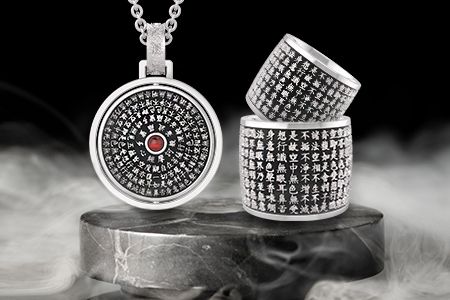 Oriental Culture Series
Heart Sutra Series And Odm Oem East Religions Jewlerys
The culture of any nation begins with the written word. HUNGKUANG Jewelry, rooted in design and development in Taiwan for 20 years, has a strong sense of mission in preserving Eastern culture. HUNGKUANG Jewelry has put immense effort into developing religious-themed products, conducting thorough research and analysis. HUNGKUANG Jewelry's design team translates the Eastern characters' beauty into concrete products. This jewelry type distinguishes itself from the fashion accessory market, appealing to creative and one-of-a-kind customers. It adds uniqueness to your products and helps explore the blue ocean customer segment in the religious industry. This means that the jewelry you offer is not limited solely to fashion accessories; your customer base can be broader and more diverse.
---
HUNGKUANG Jewelry employs traditional casting methods to ensure quality that matches that of machine-casting
With 20 years' experience in jewelry design and production, HUNGKUANG Jewelry has attained the expertise to produce intricate traditional characters through traditional casting. This exemplifies HUNGKUANG Jewelry's exceptional proficiency in supplying jewelry.
This jewelry selection from HUNGKUANG Jewelry showcases our core values
Establishing market distinctiveness to provide customers with improved profit margins while selling jewelry.
Providing customers with superior quality, elevating their satisfaction and minimising post-sale issues.
Custom specification options
Material: K gold, 925 sterling silver, stainless steel, copper
Plating: silver plating, rhodium plating, gold plating, rose gold plating, antique
Size and specifications: any specifications you need
Stone: diamond, zircon, crystal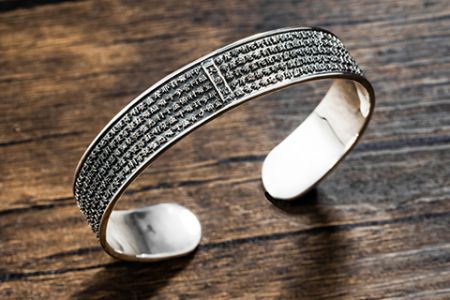 HL0220
HUNGKUANG Jewelry specializes in designing jewelry for the religious and cultural markets,...
Details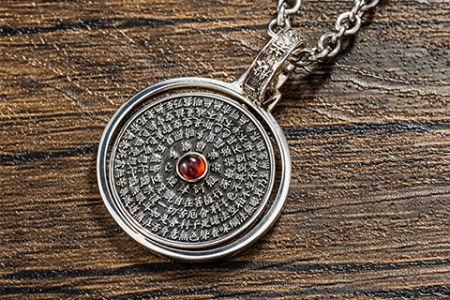 PL0270
HUNGKUANG Jewelry specializes in developing jewelry for the religious and cultural market....
Details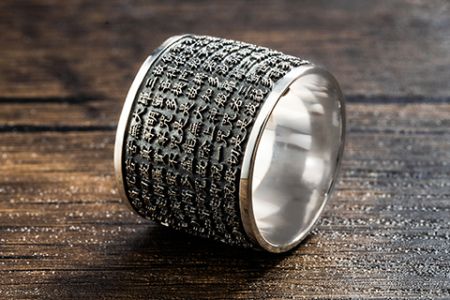 RL0241
HUNGKUANG has developed and designed a traditional Chinese Heart Sutra wide ring, produced...
Details
HungKuang Jewelry Electronic Catalog
This is the HungKuang electronic catalog with many different types of jewelry.

Download
Start creating your own jewelry
Create your brand now
More Details
Oriental Culture Series | Custom Jewelry | Wholesale Jewelry Manufacturer | HUNGKUANG
Based in Taiwan since 2000, HUNGKUANG Jewelry CO., Ltd. has been a wholesale manufacturer of silver jewelry and rings. Their main jewelry collections include, Oriental Culture Series, friendship bracelets, men's rings, women's rings, silver rings, personalized bracelets, couple's rings, sterling silver rings for men and women, championship rings and chains, signet rings, pendants, necklaces and pendants for women and pet jewelry, which can be customized to a full range of jewelry and silver jewelry products with the latest jewelry manufacturing technology.
HUNGKUANG with more than 20 years of in jewelry design and production experience, specialized in Packaging design, jewelry peripheral integration. One-stop service, vacuum packaging service for sterling silver jewelry. HUNGKUANG offers customers with innovative and integrated solutions with its rich experience in R&D and design, skilled production technology, and forward-looking vision. HUNGKUANG embraces the spirit of adventure, embraces the challenge of craftsmanship details, has the courage to break through the status quo, and leads customers forward with visionary thinking.
HUNGKUANG has been offering customers bulk and wholesale rings and pendants, both with advanced technology and 15 years of experience, HUNGKUANG ensures that each customer's requirements are met.